(In my defence, I should like to point out that these are mini cupcakes!)
We also met Cumbolin here, but his trike was being repaired so he was on some kind of eccentric two-wheeled contraption.
I asked the Randonee people to reassure me that it was mostly downhill from here. Their response was "Errr ...". This wasn't 100% reassuring.
The penultimate stop was Wooton. For the rest, who'd started there, this was the finish. For me, I had another six or so miles to go. I was seriously tired by this point: I didn't even get out of my seat to get my brevet card stamped, and I relied on the Quackers Support Team (aka Claire) for my photo: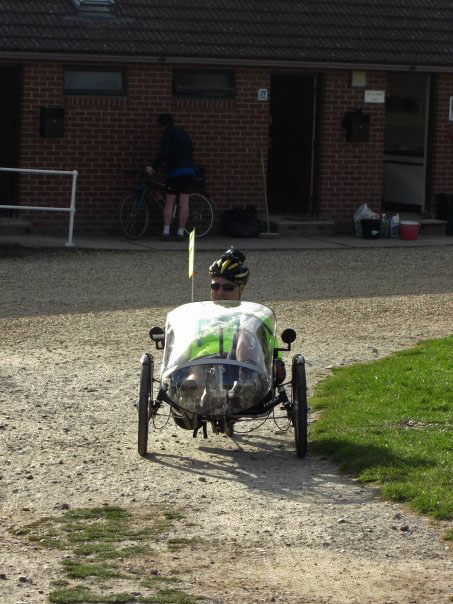 Heading out of the stop, I tacked onto the back of a group of cyclists who rode up yet another hill. On reaching the top, they turned down a rather unlikely-looking side road. There were no cycle-route signs, so I looked across the road and spotted a Cowes sign - pointing back down the hill! Yep, I'd just followed some cyclists halfway to wherever they lived ...
I set off back down the hill (41mph in a 30, very naughty) and headed in the correct direction towards Cowes.
I was pretty much on automatic pilot by this stage as I headed up yet more hills. Towards the top of one steep one, with very little energy remaining, there was another speed-detection sign. I checked my GPS as I approached it: 2.6mph. The sign glanced down at me with a condescending look and decided it really couldn't be bothered to go to the trouble of lighting up for such a pathetic speed: it remained blank.
Finally, I decided I must be on the final downhill run into Cowes. No. There was another uphill ahead. I climbed that and then set off down what must really be the final downhill run. No: more uphill. Bastard island.
Eventually, though, I started back downhill and it kept going in the correct downward direction all the way to the final checkpoint. The officials had packed up, so there was no-one to stamp my card and hand over my completion certificate. I waited for the chain-link ferry.