It's worth being aware that ICE are the BMW of the trike world: the price-tag you see in the showroom bears very little relation to the final total you'll pay by the time you've added even a modest number of options. Even something as simple as a mount for a front light is an option! While the base price is £1800, I now have about three grand invested in mine.
This sounds like a huge sum for a bicycle, but it really is that good. It's the last bike I ever expect to buy, so the cost per mile is really quite reasonable.
The options I went for are ...
Gears
I've been through a few iterations of gears. The 2008 model I bought came with 26/36/48 front rings and an 11-32 rear cassette, giving a gear range of 15-85 inches.
I wanted more top-end speed, so originally swapped the front rings for 30/48/60 (the latter a hard-to-find ring which we eventually found from HP), giving me 18-106 inches.
However, ICE then brought out a new rear cassette, with a greater range of 9-34. This wasn't compatible with my big ring, so I upgraded to the new cassette and swapped the front rings to 30/42/52, which gives me 17-112 inches. :-)
Quick-release kit

Trikes are not as easily transported as conventional bikes. Although you can get bike-racks to carry them, most of these are towball-mounted, which isn't an option with an SLK. Most trains also don't allow trikes to be carried (though I've had no problems on local commuter services with double doors).
The trike can be reduced to something that will just about fit into a conventional bike-bag. The quick-release kit enables you to do this in about 15 minutes (yeah, I know the ICE website shows them doing it in just over two minutes, but they've had a bit of practice ...).
Most importantly, once it's in a bag, it is no longer a trike for train company purposes: it is now merely a piece of luggage.
Side pod bags
A very clever pair of panniers that mounts to the trike without the need for a rack: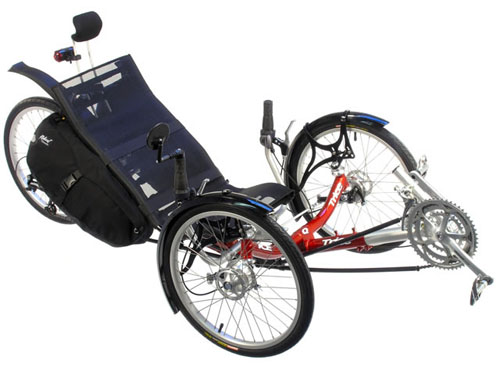 A set of straps go around the seat, and that's it. By eliminating the need for a frame, the weight is kept to a minimum. The position of the bags also means that the contents are accessible from the seat, which is handy for things like taking a photo or grabbing a snack.
Each bag holds 12.5 litres; a total capacity of 25 litres is good enough for a weekend away if you're not camping.
Streamer fairing